Trainers have to combine various delivery channels to conduct an effective session. Zoho WorkDrive offers a secure and collaborative platform to create and manage all your training content.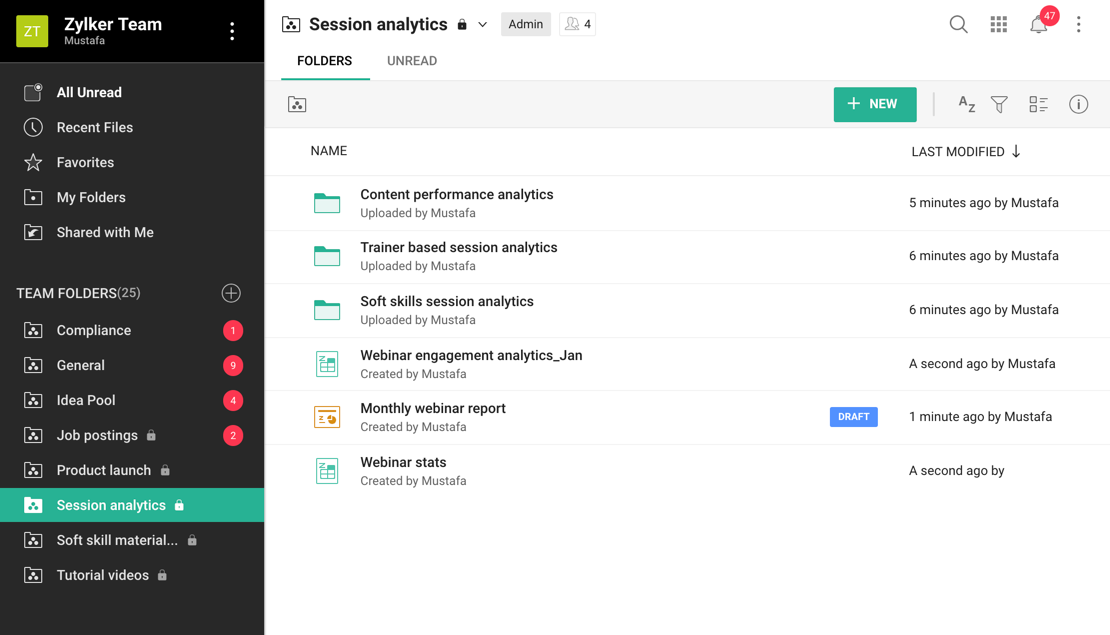 Set up your digital library.
Create a central repository for all your training content, from course materials, videos, and presentations to invoices and more.
Do bulk uploads.
Organize and consolidate all your training resources into folders and upload them to WorkDrive in one go. With cross-device sync, content stays updated across platforms and you can access them whenever you need them.
Manage multiple file formats.
WorkDrive supports more than 220+ file formats. With enhanced preview, quickly view any file or stream high-quality videos without having to download them.
Collaborate to improve training.
WorkDrive offers a shared workspace for trainers to build a strong and secure course library. With a built-in office suite, your team can exchange ideas and create engaging curriculum for your sessions.
Maintain complete control.
Add trainers and assign permissions at both organization and team levels. Give them relevant access, based on what you want them to do.
Safegaurd your training materials.
Keep a close watch on every course file. Any document deleted at the Team Folder level will be available for team admins, so you can always retrieve files that were accidentally deleted.
Transfer ownership any time.
Don't worry if a trainer leaves your organization. You can revoke access and transfer their files to another member. This way all your training content stays intact.
Manage team activities.
Keep track of access stats, file usage, and more. Get an overview of everything in your team. Administer your files from a single dashboard, from folder-specific storage information to detailed activity reports.
Share knowledge across borders.
Open doors for learning to anyone. Share files both internally within your organization and externally with remote trainees.
Share material effortlessly.
Distribute information throughout your organization with Public Team Folders. Add documents to a Public folder and make it readily available for every member of your organization.
Customize link permissions.
Share material with external participants as a link at the end of a session. Set a password, enable or disable downloads, and create a customizable URL that is relevant to your session.
Track which content performed the best.
Share course syllabi with different segments of participants and measure their response. Create and distribute multiple links of the same document and get analytics on the number of views and downloads for every segment.